On April 25, BCEN was proud to announce our 2022 Distinguished CEN Award winner: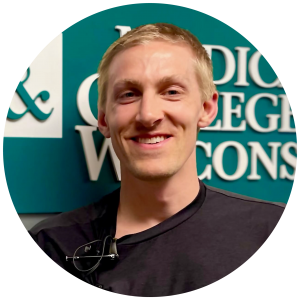 Nicholas Jazdzewski, BSN, RN, CEN
Emergency Department Staff RN
Froedtert & the Medical College of Wisconsin Froedtert Hospital
Milwaukee, WI
What does this award mean to you?
This award validates the hard work that I, along with our emergency department team, have put forth to increase knowledge so that we can provide the highest quality care for our patients. By doing this, it sets a new, higher standard for those in our workplace and highlights the level of expertise that nurses in our department have obtained.
How does earning and maintaining the CEN credential make a difference in our practice and roles?
Obtaining my CEN has helped build my confidence, as I know I am part of an elite group of nurses that have this board certification signifying a commitment to excellence.
What difference has being a CEN made for your patients and their families?
Obtaining the CEN has heightened the quality of care I provide for patients as I have a deeper understanding of the disease processes taking place, allowing me to better anticipate changes in condition and each patient's overall needs.
How does the CEN advance emergency nursing?
Having more board certified emergency nurses lifts the quality of care that we collectively deliver to patients. The Certified Emergency Nurse (CEN) board certification underscores a level of expertise that directly translates to better patient care because the nurse's broadened understanding of disease processes allows them to more quickly recognize changes in patients' conditions and anticipate patient needs. Increasing one's level of expertise elevates the level of care the overall healthcare team provides to patients. And as more nurses in the care team obtain specialty certification, the level of care is enhanced exponentially.
Here's what Froedtert Hospital RN Tina Nielsen, who nominated Nicholas, had to say:
"Working alongside Nick in a fast-paced and high acuity environment has allow me to see his work ethic and demand for excellence firsthand. Nick seeks out opportunities to improve his practice by consulting with his peers including advanced practice providers, pharmacist, and respiratory therapists, making him one of the most well-rounded emergency nurses one will meet.
His studies in and out of the workplace have led him to be a valuable resource for his nursing colleagues. His approachable and positive demeanor has allowed him to become a leader. Nick is who I look to to get things done. He is involved and advocates for us and what we need to take care of patients.
When asking Nick's peers about how he models excellence as a board certified emergency nurse, the descriptions that were shared repeatedly are 'He is a team player, jumps in to help with patient care without being asked, and often has proactively brought in equipment or resources that he anticipates will be needed for care. He has such a kind and compassionate bedside manner, and he is always asking questions to better understand the patient or the care plan with the healthcare team.'"
---
Read more about Nicholas and how he supports certification on his unit on the BCEN Awards page.
Read about all of BCEN's 2022 Distinguished Award honorees here.