Helping emergency nurses be the best nurses they can be by becoming board certified is what BCEN is all about.
We also recognize there are many steps nursing students and practicing nurses will take before they earn their first emergency nursing specialty certification.
On this page you can follow Dylan on his journey from nursing student to landing his first job as an RN to someday becoming a board certified flight nurse. No matter what your dream job is, we hope reading about Dylan's successes and challenges will help you chart your own course and make the going a little easier. Each time Dylan adds a new entry, we will post a note on our Facebook page.
We'll also connect you with resources and information such as: NSNA and industry scholarships, how to tackle test anxiety, the benefits of professional association memberships, white papers and research on the value of certification, BCEN's certification candidate handbook, and certification exam discounts.
---
Hi, my name is Dylan and I'm a student in the nursing program at William Jewell College. In the months to come, I'll be sharing some of the milestones and decision points along the way to becoming a board certified flight nurse.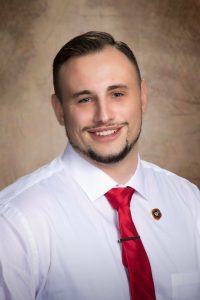 I've already learned a lot along the way, and maybe something about my story will help or inspire you on your career journey.
As a kid growing up in Portland, Oregon, I was inspired by my mom, who started off as a pediatric intensive care (PICU) nurse and later switched to PACU, where she still practices today. My mom's friend was a flight nurse, and I remember listening intently to their stories about the patients they took care of. As a young adult attending my local community college with plans to get a history degree, I worked part-time as a lifeguard. I began noticing that caring for others was something that reinvigorated me and I seemed to react calmly in emergency situations, so I decided to pursue nursing with a heavy interest in critical care and emergency nursing. I married my high school sweetheart and a few years ago, thanks to an academic scholarship from William Jewell, we moved to Liberty, Missouri. It's hard to believe, but I'll be graduating with my BSN in May 2019.
You can follow along below (my nursing journey starts at the bottom of the page), plus each new post will be featured on BCEN's Facebook page.
My Journey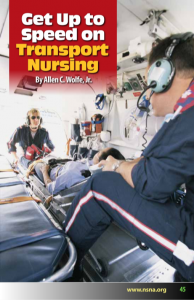 January 2019 – Being a flight nurse has been a dream of mine for a long time. So, I'm learning everything I can about transport nursing and what career choices to make—from what are the best first jobs to hold to how soon can I earn my CFRN. That's why I'm so excited about the article "Get Up to Speed on Transport Nursing" in the January career issue of NSNA's Imprint magazine. It's written by one of the world's most experienced and innovative flight nurses, Allen Wolfe, MSN, RN, CFRN, CTRN, CCRN, CMTE. He's a true rock star in the transport nursing world. Happy reading!
P.S. – The article includes a mini feature with yours truly. Thank you again to my LifeNet 2-2 host flight team.
October 2018 – Spent a 12-hour shift shadowing flight nurse Zachary Dillon at LifeNet 2-2's air base in St.
Joseph, Missouri. Although bad weather grounded the crew (and me) for the day, this experience was absolutely one of the highlights of my nursing career so far. I practiced intubation on medical mannequins and cricothyrotomies on pig tracheas. I talked extensively with Zach about the detailed protocols and procedures they follow for every possible situation.  I asked lots of questions about Zach's career path, and learned the realities, both pro and con, about the job. Above all, the trust and teamwork between Zach, his paramedic partner, Josh Parsons, NRP, and pilot Ben Cooper made a big impression on me. I am grateful to the flight crew and LifeNet 2-2 for the privilege, and to BCEN for helping me make this connection. Many employers offer shadow opportunities, so it's definitely worth asking. Student membership in an industry association is an affordable avenue for learning about and exploring career opportunities that offers many other perks.
April 2018 – Big month for making industry connections. First, while attending NSNA's annual convention, I introduced myself to BCEN Executive Director Janie Schumaker and thanked her for the BCEN-sponsored FNSNA scholarship I received. Janie asked me about my career plans and I told her about my goal to become a board certified flight nurse.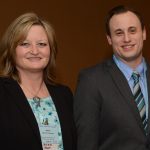 After learning about BCEN's major research study on certification, I feel even more strongly about the value of certification and how it strengthens the profession and individual nurses. A few months after I met Janie, she contacted me and offered to arrange for me to shadow a flight nurse. I also decided to join the Emergency Nurses Association (ENA) as a student member. Not long after, thanks to networking with ENA staff, I was able to attend a seminar on the CEN® (Certified Emergency Nurse) and how to pass it. The CEN, which is offered by BCEN, is the foundational emergency nursing specialty certification.  I plan to earn it early in my career. 
March 2018 – Great news! I have been awarded a BCEN-sponsored NSNA Foundation scholarship to use toward my undergraduate studies. After receiving a personal note of congratulations from BCEN's Executive Director Janie Schumaker, I sent her a thank you note and that was the start of my relationship with BCEN. Applying for scholarships, even after you start your schooling, can really pay off.
January 2018 – Applied for a BCEN-sponsored NSNA scholarship. BCEN funds six $3,000 NSNA Foundation undergraduate scholarships every year. BCEN also annually funds $130,000 in undergraduate, graduate and doctoral scholarships through the .
October 2017 – Honored to be elected treasurer of William Jewell's SNA.
August 2017 – Began attending William Jewell College as a junior in the nursing program. Joined the National Student Nurses Association (NSNA) and started attending my college's SNA (student nurses association) chapter meetings. Be sure to check out NSNA's top 10 reasons to join.
Share this page: