No one can know what the future holds.
But you can be ready for it.
The only certainty about life in the ED … is that it's never certain. Emergency nurses thrive in this always-changing, ever-dynamic environment. And when a crisis hits, emergency nurses are ready to respond —with care, with decisiveness and with adaptability.
Sound like you? The BCEN EDvantage program is what you need to prepare for a future in the ED … even in an uncertain world. 
Give your career an advantage with BCEN EDvantage.
"We want to invest in the future of emergency nursing. We understand the difficulties both new nurses and Emergency Departments face when going through the application/new-hire process. Our goal in developing this program is to contribute to a strong emergency nursing workforce."
– Janie Schumaker, Chief Executive Officer, BCEN
As a soon-to-be graduate or recent RN, you've likely got the academic foundation and knowledge for a successful career. The BCEN EDvantage program is designed to supplement your education with authentic, in-depth learning and experience specific to the emergency department. Get up close and personal with the ins and outs of critical care, and set yourself apart from the rest of the crowd. Hiring managers, HR and team leaders want to see drive, motivation and passion — the BCEN EDvantage program shows them you've got what it takes.
Are you ready to set yourself apart from the crowd and elevate your chances of securing a career in the ED?
Eligibility
| Nursing Students | Current Nurses | General Criteria |
| --- | --- | --- |
| Must be within 12 months of graduation. | Hold unrestricted US RN license or international equivalency. | Complete all program requirements within 12 months of initiating the program. Submit a $50 Program Application Fee. |
BCEN EDvantage Curriculum
The BCEN EDvantage program is a combination of in-person, online and written activities. All activities must be completed by the participant within 12 months of application, submitted and verified by BCEN. Upon completion, the participant will receive a certificate that can be added to LinkedIn, resumes, professional documents and more.
Disclaimer: The program application fee is nonrefundable. All fees associated with certificate programs required for submission are the responsibility of the applicant. BCEN reserves the right to deny applications that do not meet selected criteria. BCEN makes no guarantees that completing the BCEN EDvantage Certificate Program will secure you a position in the Emergency Department.
Learn More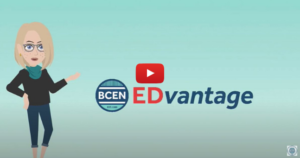 Frequently Asked Questions
About BCEN
The Board of Certification for Emergency Nursing (BCEN®) is an independent, not-for-profit organization that develops robust certification programs for emergency, transport and trauma nurses. One of our main goals is to empower and support nurses across the emergency spectrum.
Share this page: