Whether you are new to emergency nursing or have years of experience, learn why getting ̶ and keeping ̶ an emergency nursing specialty certification is your ticket to success.
Backed by a large-scale study, BCEN's new white paper 5 Compelling Reasons to Get (and Keep) Your Emergency Nursing Specialty Certification is your guide to greater success and satisfaction.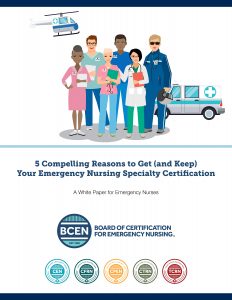 Get your FREE copy of our new white paper today and learn:
How certification can boost your career and your bottom line
Why employers and patients prefer certified nurses
How certification helps you stay in-the-know and relevant
Also in the white paper… Top certified emergency nurses working in mixed care, pediatric, trauma and transport settings share why they hold at least one specialty certification. Get your copy today!
Share this page: