On Sept. 9, BCEN was pleased to announce our 2020 Distinguished CEN Award winner: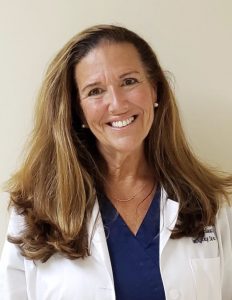 Jude Lark, BSN, RN, CEN, CCRN
Overlook Medical Center
Summit, New Jersey
What factored into your decision to get board certified and earn the CEN?
Jude: Being able to deliver exceptional care, quality care, and safe care. Following evidence-based practice and current trends. Those are some of the factors of why I decided to sit for my CEN, and why I felt it was so important. Over 35 years ago, when I was a younger nurse working in intensive care, I passed my CCRN. I have always thought that certification represents excellence in your field. It represents proof of your specialized knowledge and your efforts to practice evidence-based quality and safe care.
I've been an emergency department nurse for about 20 years, and I do not remember not thinking about getting certified. As soon as I made the ED my home base—because I love it—I set my goal on certification. The CEN represents excellence in emergency nursing. It means patients receive improved quality care with our increased knowledge and our keeping abreast of all the trends and advancements in our field.
What does being named BCEN's 2020 Distinguished CEN Award winner mean to you?
Jude: I am so honored and extremely proud to be the recipient of this distinguished award. For me, it confirms and validates the work I have been doing to promote and encourage and excite the staff to become board certified. It has made an impact, and I have seen that.
This award brings to light all the resilient and very capable certified nurses that we have developed here at Overlook ED. Over the past six years, we have increased our certified nurses by 52%, and that is exciting. I just hope every single day that I can make an impact or make a difference in one of the team members I work with.
What roles and impacts have CEN-certified nurses had during the pandemic?
Jude: In 42 years of critical care nursing, I have never seen anything like what we experienced in the emergency department and critical care units across New Jersey. Our board certified nurses used their knowledge of best practices and the most updated skills to help facilitate and drive the innovative practices and adaptations we had to quickly develop for our COVID patients, and for each other, too. That is … How are we going to care for our patients? How are we going to care for the families? How are we going to care for each other?
Board certified nurses have that higher level of competency, that higher level of thinking that provided the leadership team expertise at the bedside and provided the clinical skills so we could quickly develop ideas to move forward. Certification gives you that boost of expertise where you can think out of the box and be creative.
Some of these ideas led to the new normal triage redesign. My whole team of certified educators across our system got together to develop and quickly roll out teaching tools on donning and doffing, how to put on a PAPR and how to take it off, and what is the cleaning process. We collaborated with Infection Prevention, with our ED teams, and with other systems on what they were doing. And then we quickly developed programs to train deployed staff.
We also worked with our certified bedside leaders on how to take care of our families and the community. We called this initiative Personal Touch. For example, we worked with the squads to ensure they got a phone number so that we could call the family to let them know their loved one had arrived and we are taking the best care of them. The personal touch was so important because sometimes … well, we knew we needed to be there for that patient's family … because it could be the last moments of their loved one's life.
In so many ways, board certified nurses really helped with that advanced level of thinking and effective utilization of CDC guidelines and ENA current COVID practice and trends, and in collaborating with our other sites. I actually have chills, because I think of all the emergency nurses and what they went through, while also taking care of each other.
What do you most want other nurses to know about the benefits of being a CEN?
Jude: When we talk about board certification and what it means in the department, which we do every week,  I let them know that certification is a mark of your professional commitment and following evidence-based practice. We talk about our focus on excellence in the ED, and how your board certification is proof of your pledge to deliver quality, safe, and effective care.
We talk about how certification makes a difference at the bedside and in so many other ways, all of which you can read about in the literature, because of our continued desire to follow best practices every day. We talk about how certification makes so much of a difference that our employer will reimburse you when you pass the exam and increase your hourly rate.
We talk about families and the community, too. They look—because of this world of transparency we operate in— to see what hospitals are rated in Healthgrades and by the Joint Commission, and whether it is a Magnet facility, and whether nurses are certified. Our community, our patients and our families look at our certification tags. We have bright red ones, and patients and families are very interested for our nurses to talk about what it means. It is very exciting for families and patients to hear that this is your proof and validation that you are board certified in emergency nursing—that you are up to date with best practices, with the best, safest, and most effective care.
Tell us about the nurse residency program you developed for your ED.
Jude: As an ED educator for over 10 years, I have always felt that there is a lot that goes into every orientation of a new graduate. When you do a literature search, you read that creating a residency can lead to improved outcomes as far as retention and the success of each of your nurses. Our OR department had already created a residency, so we used that as our format for the ED. Part of the residency is encouraging board certification within the year.
Our ED teams joined forces and put together a 20-week program that starts out with each of us teaching a portion of the ENA modules for a strong foundation. So, say we started with cardiovascular, we would teach that module and then do some clinical on the cardiovascular rotation. The nurse residents also did their ACLS together and their PALS together. There was definitely something about having that family unit that leads to success.
The CNOs got together and purchased the textbooks for the group. We assigned nurses each and every course together, and they are getting the same type of education at each site. And then we hand-select hopefully the best preceptors we possibly can. We also made sure the residents have extra time with the educator in the department, too, so their foundation is strong before they even go off with their preceptors.
I am very excited about the program, which, as of early September, is about halfway through. There are 10 ED nurse residents throughout the Atlantic Health System, and we have three of them here at Overlook. I am absolutely beyond thrilled with the progress that each one of them has made as a brand new graduate working in the ED department. They are doing unbelievably well. A few weeks ago, we had a code, and one of the new graduates was functioning at such a high level in that room—knowing what to do, taking notes, observing—and then we went over all the EPIC documentation afterwards. It was incredible.
What other ways do you encourage and support your nurses to pursue CEN certification?
Jude: We start at the beginning—right at the interview process, whether it is the ED nurse residency program and hand selecting those new graduates who would be a good fit for the ED, or with the newer nurse coming in. That is where we lay the foundation and our expectations and goals for board certification.
I love what I do. That is the key. I think you have to be extremely passionate and energized about education and professional development. They say I am a cheerleader, and I think that leads to staff engagement. When you are energized by education and professional development, it is contagious, and your staff start to get excited about being involved.
When I started working here about six years ago, I immediately found foundation funding so that every single year I could facilitate a two-day CEN review course. In June, despite the pandemic, we hosted one of the first virtual CEN review courses with 75 RNs across our system, 27 from my ED. And now we already have five successful certified nurses, and I know of at least five more who are scheduled to take the certification exam. We also have reimbursement for nurses who sit for the exam. Above all, we try to make the entire certification process present every day for every nurse—in our daily huddles, our weekly newsletter, and every way possible.
I am committed to support and promote board certification for emergency nurses. I strive every day to be the most successful model that I can be, to provide them with that strong foundation, and hopefully inspire them to have that desire to become certified.
Board certification is a way nurses can demonstrate they have achieved that level of knowledge and clinical skill and critical thinking. I hope that my energy level with certification, my desire for certification, is contagious in the department. I truly believe certification is a validation of your knowledge and your skills and competencies that are unique to the emergency department.
Anything else you would like to add?
Jude: I would like to share my award with my director, Sharon Kelly, because she strives every day for professional advancement of her leadership team and the bedside leaders. That is one of her goals, and she stands by it every day. And also my leadership team, who stands behind board certification through their everyday practice, letting staff see the importance of certification.
Certification is something that you hopefully excite and strive for. We do this as a team, and that is what makes everything work so well.
Read our Meet the Winner Q&A with 2020 Distinguished CPEN winner Lisa Chambers.
In case you missed it, you can read the 2020 BCEN Distinguished CEN and Distinguished CPEN Awards announcement here.