On May 5, BCEN was pleased to announce the 2020 Distinguished TCRN Award winner: U.S. Air Force emergency services/trauma nurse First Lieutenant Mariah Pruett, NC, BSN, RN, CEN, CFRN, CPEN, TCRN,  CCRN, 60th Medical Group/Emergency Services Flight, David Grant USAF Medical Center (DGMC), Travis Air Force Base, California.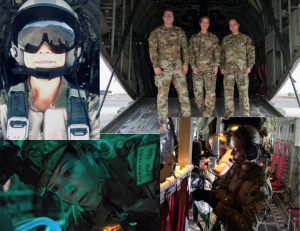 While Air Force nurses traditionally only obtain one certification in their specialty — for example, an ED nurse earns a CEN — Mariah educated active duty nurses on the value of obtaining their TCRN due to the amount of trauma and combat seen downrange. Mariah's initiative led her to develop a certification mentorship program that increased the TCRN certification rate by 200% among emergency nurses and ICU staff of the 60th Medical Group.
Mariah was nominated by DGMC Emergency Services Medical Director Major Michael Galante, who described the life-saving trauma care Lt. Pruett delivered to 11 U.S. and Allied Forces patients over 103 combat hours on the ground and in flight during a recent deployment as well as limb-saving early intervention she provided to an Airman while stateside.
Here's what Mariah had to say about her military nursing career and why she became a TCRN:
Why did you become a TCRN and advocate for your colleagues to do the same?
Becoming a Trauma Certified Registered Nurse has been a goal of mine since I stepped into the emergency department as a new nurse. I admired the experienced nurses I saw that were competent and skilled in their practice and who selflessly dedicated extra time to studying for certifications. I knew that I wanted to do the same and enhance my knowledge, increasing the quality of care that I could provide. The TCRN is valuable not only for nurses working in trauma centers but also for nurses working in all levels of emergency medicine.
I have found that once a nurse has one specialty certification, they might feel that there is no reason to take on the challenge of additional certifications. I have tried to defy that stereotype by advocating for the importance and value of multiple certifications while mentoring nurses through the certification process.
Why is board certification important for emergency and trauma nursing?
Being a board certified emergency nurse is important in my career because it both showcases my professional skill set and creates a sense of pride. Regardless of your specialty, board certification is valuable to RNs because it demonstrates clinical competency and highlights a high level of motivation and devotion to your nursing practice. As a nurse, you hold patients' lives in your hands every day, and the knowledge that is gained through certification may be the thing that helps save a life.
Tell us about your military career, deployment and roles.
I direct commissioned into the Air Force as an emergency/trauma nurse in 2018 after four years of civilian nursing. Since then, I have been stationed in California where I work in the emergency department for primary duty. I have also been trained as a member on a Critical Care Air Transportation Team (CCATT), which is a mobile ICU, and a Tactical Critical Care Evacuation Team (TCCET), which specializes in point of injury pickups in austere environments. During my recent deployment I was on a TCCET team, providing critical care/trauma alert capabilities for a theatre of operations. My experience in trauma and knowledge gained through TCRN certification allowed me to provide optimal patient care.
What does this award mean to you?
To me, it shows how far I have come in my career, from the new nurse hungry to learn and take on the world to the skilled nurse running the trauma bays and taking care of in-flight trauma. It is an honor to receive the BCEN Distinguished TCRN Award.
Learn how the TCRN credential came to be and why advanced trauma nursing care is so valuable in the first edition of BCEN's Commitment to Excellence series.
Read more about Mariah and what her supervisor had to say in BCEN's national 2020 Distinguished TCRN Award announcement.