On April 25, BCEN was proud to announce our 2022 Distinguished CTRN Award winner: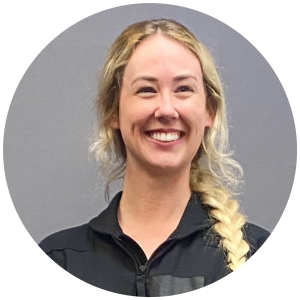 Mackenzie Alexander, BSN, CEN, TCRN, CTRN, CPEN
Critical Care Transport Nurse
Harris Health System/Lyndon B. Johnson Hospital
Houston, TX
What does this award mean to you?
This award validates all the hard work I have put towards furthering my education. My goal is to improve my nursing skills and education, which allows me to provide better care for my patients. This award is a recognition of what I do every day. I love what I do and am passionate and strive to be the "best," so I appreciate this honor.
How does earning and maintaining the CTRN credential make a difference in your practice and roles?
Earning additional credentials allows me to continually learn and improve. I never want to stop learning new things, so I am always looking for new education to continue on that path. The Certified Transport Registered Nurse (CTRN) specialty credential gave me new insight into emergency medicine and helped expand my role as a transport nurse.
What difference has being a CTRN made for your patients and their families?
By earning this credential, my knowledge in emergency medicine has vastly expanded. It has bolstered my abilities to care for all types of patients in any situation. I am better able to connect this information with real-life disease processes and care for patients and their families more competently and safely.
How does the CTRN advance emergency nursing?
Transport nursing is a very broad field in emergency nursing and having advanced knowledge and skills gained through this credential could be the difference between a safe, quiet ground transport versus a transport that ends badly. I am able to utilize my new knowledge to anticipate challenges, plan for various circumstances and mitigate negative outcomes.
Here's what Casey Hogan, who nominated Mackenzie, had to say:
"Mackenzie has dedicated herself to our critical care transport program over the last few years within the emergency center at Harris Health/Lyndon B. Johnson Hospital. She has her CEN, TCRN, CPEN and CTRN.
She leads the educational committee of our critical care transport team. She educates the other RNs, EMT-Bs, and EMT-Ps who are in the program. She also leads and develops critical scenarios for training and runs mock drills/codes for the program.
Mackenzie transports some of the most critical patients out of Harris Health System's emergency center and ICUs. With her knowledge and training, she is a sought-out resource for many and delivers quality care to critical care patients in the emergency center and during transport as part of our critical care transport team. Mackenzie's dedication to education exemplifies clinical excellence."
---
Read more about Mackenzie and how she supports certification on the BCEN Awards page.
Read about all of BCEN's 2022 Distinguished Award honorees here.
The Board of Certification for Emergency Nursing (BCEN) is proud to recognize Mackenzie Alexander, BSN, RN, CEN, TCRN, CTRN, CPEN, as the BCEN 2022 Distinguished CTRN Award recipient. This annual, national award honors one top board certified critical care ground transport nurse. Mackenzie is a Critical Care Transport Nurse with Harris Health System in Houston, Texas and also resides in Houston.
Share this page: