On May 11, BCEN was proud to announce our 2023 Distinguished CTRN Award winner:

George Olschewski, BSN, RN, CFRN, CTRN, CEN, TCRN
Critical Care Transport and Mobile Intensive Care Nurse
Hackensack University Medical Center Specialty Care Transport Unit
Hackensack, NJ
What does this award mean to you?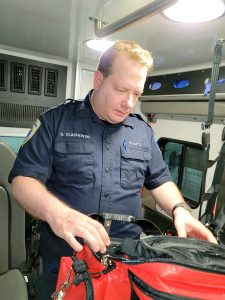 While receiving the award is a tremendous honor, I'm only as good as my team, and my team encourages me to excel and better myself and my practice as much as I encourage and support them. This is as much their award as it is mine.
How does earning and maintaining the Certified Transport Registered Nurse (CTRN) credential make a difference in your practice and roles?
It's a difficult test, but earning it proves to myself and my colleagues that I meet a certain standard that covers not just clinical competency but also the safety of my team and my patient, as well as operational and emergency management standards. I've been a critical care transport and mobile intensive care nurse since 2004, but I truly arrived in the specialty once I earned the CTRN.
What difference has being a CTRN made for your patients and their families?
The CTRN, like all the BCEN certifications, demonstrates a knowledge base and competence, and it's a validation to my patients and their families that they will get the best care I can deliver.
How does the CTRN advance ground transport nursing and critical care ground transport care?
Critical care transport is not only a high-risk procedure, but it's also the most autonomous nursing field, and with that autonomy comes great responsibility. The certification augments the transport nurse's confidence in their abilities as a clinician and their capability to think on their feet when that routine patient decides to circle the drain. The knowledge foundation the CTRN certification demonstrates may make a difference in a patient's survival and recovery, and the excellent nurse will continue to build on that foundation after earning the credential.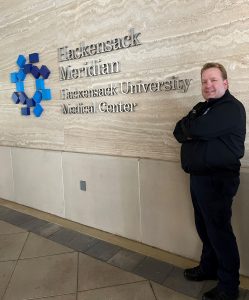 Here's what Hackensack University Medical Center EMS Department Coordinator John Mayo, who nominated George, had to say: 
"George came to our program with an extensive and diverse critical care transport background. Because of his experience, his assessment, intervention, critical thinking and prioritization skills are on point and an essential part of his team. CTRN certification not only validates but confirms his education, experience and skill set.
George has encouraged his nurse colleagues to pursue the CTRN, CEN and CFRN, providing study materials to them and often paying for them out of his own pocket. He has also encouraged his paramedical team members to pursue board certifications. He knows that board certification doesn't just elevate the individual practitioner but the entire department's ability to provide effectively, timely and compassionate care to their patient community.
George is a patient educator, and has an amazing ability to put complex medical processes and procedures into plain language, which aids his coworkers and patients alike. He mentors and educates new nurses as they enter the transport environment and encourages team members in every discipline to ask questions as to why things are happening, so they can deepen their understanding. Nurses, paramedics and EMTs alike credit George's influence and patient teaching as influencing their care."
---
Read more about George and how he supports certification on the BCEN Awards page.
Meet the other BCEN 2023 Distinguished Award winners here.
Share this page: