Champlain Valley Physicians Hospital: Crushing 2020 Goals!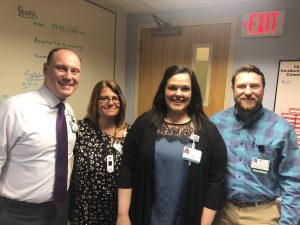 On our never-ending quest to shine the spotlight on high performing leaders and organizations and learn and share best practices, BCEN was fortunate to be invited to visit Champlain Valley Physicians Hospital (CVHP) in Plattsburgh, New York. We were intrigued to learn that the certification rate has increased by 30% in the last 12 months.
In fact, the 2020 goal set by leadership to have 45% of nurses certified by fourth quarter in 2020, has already been surpassed and is currently at 58% with several more nurses scheduled to test. The energy and excitement around certification that has produced these results have surprised and exceeded the CVPH leadership expectations.
As we spoke with CVPH leadership and staff, the secret sauce to success became very clear. The first thing that is very apparent is that the employees are incredibly valued. The staff are a close-knit group and are very invested in the community, their patients and each other. Because of the deep commitment to quality and safe care for their patients, leadership places a high importance on professional development. Ken Thayer, BSN, R.N. AVP, Patient Care Operations knows that the nurses are the ones who spend the most time with patients. He relies on the nursing team to provide quality care, advocate for the patients and keep things moving. Ken recognizes that professional development, including specialty nursing certification is essential to a high performing nursing team. Each year, Ken ensures the professional development dollars are secure as this is often the first thing to be cut from budgets when dollars get tight.
Further support from the physicians is also evident. Dr. Skinner, M.D., CVPH Emergency Department (ED) Medical Director said the doctors rely heavily on the nurses, especially when the ED is very busy. He said "Certified nurses make the department safer and our quality of life better because they recognize and prioritize what needs attention now. They have an increased knowledge base and the doctors don't have to worry about the care the patents are receiving."
CVPH provides a variety of support for professional development and certification. Numerous review courses and other educational offerings are provided to the nurses free of charge. Exam fees are paid upfront or reimbursed depending on the nurse's preference. There are monies set aside for nurses to attend conferences. When nurses return from a conference, they present something they learned to their peers. There is a strong value placed on learning and being prepared for anything. When someone on the team obtains certification, there are many actions taken from press releases to congratulatory notes, to recognize the accomplishment.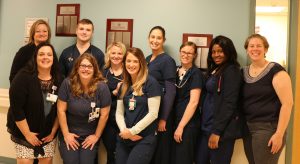 On top of all of this amazing work, the one thing that really "ices the cake" is the deep passion of CVPH's certification champion, Gina Carbino, BSN, RN, CEN, CPEN, CFRN, CTRN, TCRN, CCRN, SANE-A, Emergency Department Clinical Education Manager. Gina has a very outgoing personality and is incredibly supportive and encouraging to her team members. She is a strong advocate and believer in certification and, in fact, holds all five BCEN certifications. Gina takes a personal interest in each person and is committed to helping each person on her team achieve certification. 100% is her goal. She sees the future for the Emergency Department at CVPH and it is bright. In the not too distant future, high quality, safe patient care is delivered by a staff of 100% certified nurses. There is a waiting list of nurses who want to work in the CVPH ED.
The lesson here is that while support from leadership and our physician counter parts are essential, never underestimate the effect a passionate certification champion on a mission can make.