It has been our mission to visit as many certification champion facilities as we can this year. Our schedule took us directly to the beautiful campus of Northwestern Medicine Delnor Hospital, Geneva, IL, to meet the leadership team and staff. We were warmly greeted by Rosemarie Nolazco, BSN, RN, TNS, department leader. Within minutes we were greeted by a very large and highly enthusiastic group of leaders and staff nurses all eager to share their success stories.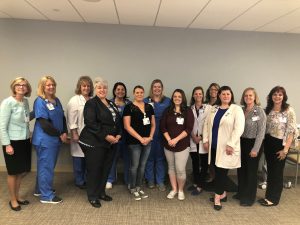 Success ranks very high at this productive and supportive facility. It began in early 2018 when NM Delnor Hospital leadership decided to take a hard look at their emergency department. Their question; "What do we need to do to make this a better place for both patients and staff?" The answer was clear – professional development which included specialty certification. In July 2018, NM Delnor Hospital had a 23% certification rate among their nursing staff. They set to work on providing professional development opportunities that would ultimately lead to an increase in certified nurses. Top down leadership support, which is so critical to success, is evident as the team embarked on this journey. In addition to the $1,000 each staff member receives annually for professional development, leadership offered exam preparation review courses and materials at no charge to the nurses. Chief Nursing Officer, Corine Haviley, PhD, MS, RN is deeply committed to this course and ensures budget support is secured.
Fast forward to May 2019 and NM Delnor Hospital has increased their specialty certification rate to 55%. That is a 187% increase in under one year! And they are not finished. There are four additional nurses scheduled to take their exams soon, and if successful, will bring their certification rate up to 64%.
What does raising the bar in professional development, to include a focus on specialty certification yield? For starters, the emergency department has had three poster presentations accepted at the upcoming fall Magnet conference. The leadership and staff excitedly described each initiative that resulted in a poster presentation. Each initiative is very important to patient outcomes, safety and efficient operations. For example, Geodon reconstitution, was a staff nurse led project. This medication is often needed very quickly but takes 3-5 minutes to reconstitute. When dealing with an agitated patient, 3-5 minutes can seem like a lifetime. Carrie Sinisko, BSN, RN, TNS, CEN, staff nurse decided to do something about this. She led a multidisciplinary team and worked through her unit based shared governance council to change the Geodon reconstitution practice. Carrie learned that reconstituted Geodon has a shelf life of 5-7 days. As a result, Geodon is now ready to go at a moment's notice. Carrie described feeling "pretty amazing" once the project was finished and in place. She will be on her way to the Magnet conference this fall to represent the poster from this work. This is a stellar example of a board certified staff nurse taking a leadership role to improve patient and staff safety and outcomes.
In addition to evidence of deeply committed nurse owners as described above, NM Delnor Hospital is Magnet recognized, recently received an A in patient safety from Leapfrog and is ranked 13th in the nation from US News and World report. Leadership at NM Delnor Hospital appreciate very low turn over in their staff which allows them continuity and the ability to pursue achievements and better themselves.
This is a shining example of what can happen in an emergency department and organization wide when nurses are supported in professional development. Rosemarie says "The staff are so energized and bring back such great ideas and learnings from conferences. Through our shared decision-making structure, the staff engages in discussions on how we can make process improvements in our department."
Encouragement and ongoing support from leadership promotes learning and the confidence to take that knowledge to a new level, of which specialty certification plays a large role. Hats off to you, NM Delnor Hospital!