Recently the BCEN team hit the road and traveled to the very remote location of Lakeview Oregon to visit the team at Lake District Hospital. Lake District is a critical access hospital that provides service to their small town of 2000 people and the surrounding 10,000 square miles. We were greeted by a very friendly and professional team who had just stabilized and transferred a critically ill patient.
Critical access hospitals are very special places and provide necessary, and oftentimes, life-saving services to the people living in the surrounding area. If you think critical access hospitals only see minor concerns, think again! Lake District is no different and after getting to know them a little over Zoom, we knew we had to visit in person.
What we found at Lake District is an exceptional team that practices frontier medicine. Frontier medicine is the term used when the service area has six or fewer people per square mile. We had the honor of having lunch with a group of nurses and they are nothing short of amazing. When a nurse comes to work on a given day at Lake District, they may work in the Emergency Department (ED), the Medical-Surgical unit or Labor and Delivery. They may start their shift in one area and have to quickly transition to another as patient care needs change. This means each nurse has to be competent in all areas. In addition, the physician is not always on-site. Physicians may be on call with a 30-minute callback. Therefore, waiting for a physician or calling the rapid response team is just not an option. The nurses must be at the top of their game ready to take action at any moment.
The nurses each receive three paid education days annually and use those wisely to ensure they can provide high-quality care for each patient that comes in the door. Over half of the nurses hold a specialty certification and in many cases two or three. For example, one of the nurses we spoke with, Nancy Carpentier, RN, RNC-OB, CEN is a Certified Emergency Nurse and a Certified Obstetrics Nurse. Nancy said "The thing I love most about my job is that I don't know what I am going to do that night. I might start out in the ED and end my shift delivering a baby." Nancy told us she loves to deliver babies, not something you always hear an ED nurse say!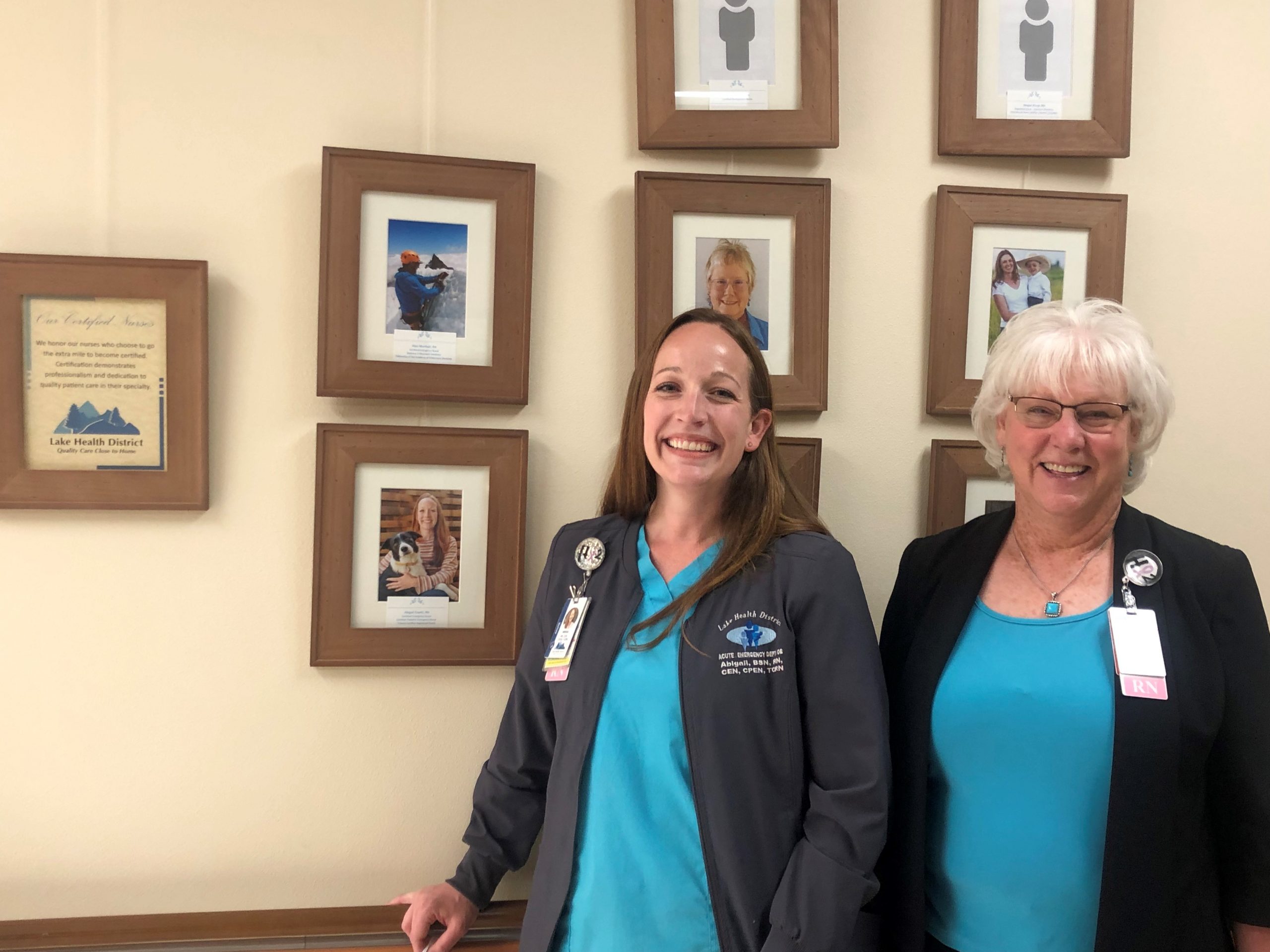 The nurses at Lake District are lifelong learners and appreciate and value all the education opportunities they can get. Nancy went on to tell us "Education is important and we pay attention because we know we will use what we are learning on our next shift." In addition to lifelong learning, this is a solid team. They rely heavily on each other, their physicians and the resource materials they have on-site. If they don't know something, they quickly find out.
Lake District has some really amazing and effective leaders too. We met the Chief Nursing Officer, Teresa Squires, BSN, RN, who is very proud of the meticulous hospital and grounds and the care teams she oversees. Teresa was instrumental in crafting the team-oriented design of the patient care areas, ensuring the units were connected so the staff was close to each other and accessible. Teresa has also been a strong supporter of the nurses, their professional development and specialty certification. Teresa said a few years ago, there really wasn't anyone certified. Today, they are over 50%. Teresa said, " What I notice most is the increase in competence and confidence in the nursing staff."
Teresa told us one of the biggest challenges is simply finding staff who want to come and work at Lake District. It takes 2-3 years to get a nurse fully competent in all the areas so hiring nurses that want to stay for a while is important. To this end, Teresa has worked very closely with two local colleges to set up distance learning with a classroom so that area residents who want to become nurses don't have to drive so far. Lake District also serves as their clinical rotation site for many of the requirements. Teresa said, "Growing our own has worked out well for us and we are blessed to be able to partner with the colleges in this way."
Abby Finetti, BSN, RN, CEN, CPEN, TCRN, oversees the Emergency Department and is one of only 13 nurses in Oregon who is triple certified. Abby works very hard to make things easier for the nurses. For example, Abby has put together emergency kits that nurses can grab quickly in emergent situations. Low volume, high-risk care processes and procedures are in print on clipboards ready at a moment's notice. Abby is incredibly proud of the Lake District nurses and their accomplishments. One very special thing Abby has created is the wall of recognition for nurses who hold a specialty certification. On this wall, Abby displays a picture of each certified nurse, one of their choosing, along with their credentials. The Lake District recognition wall is truly a testament to the incredible nurses working here.
Abby is a lifelong resident of Lakeview. While in high school Abby was a recipient of the Daly fund which is an endowment established by one of Lakeview's founding physicians in 1920. Each year the top 30% of high school seniors receive funding from the endowment to use for education expenses. Abby completed nursing school and has grown her career at Lake District. She cares deeply for her community, her team and their patients. Abby said "We must always provide exceptional care to our patients because that is what they deserve and, in a community this small, we will see them again. We have to be able to look them in the eye." I think Dr. Daly would be very proud of Abby and the investment he made into the future Lakeview children.
BCEN is in awe of all the amazing people that work at Lake District and the care they deliver to the community every day. We would like to thank the team for the difference they make, for their steadfast commitment to lifelong learning and most importantly, their dedication to their patients and community. If you are ever in Lakeview and are in need of care, rest assured, you are in the most capable and competent hands.