On October 2 at the standing-room-only annual BCEN Certification Recognition Breakfast at Emergency Nursing 19, BCEN was proud and pleased to honor the winners of the 2019 Distinguished CEN Award, Distinguished CPEN Award and National Certification Champion Award.
BCEN's annual Distinguished Awards and National Certification Champion Awards honor top nurses and organizations committed to emergency, transport and trauma nursing excellence and advocacy through board certification. Here's what the winners and nominators had to say about their commitment to emergency nursing excellence through support and advocacy of board certification and what being nationally honored by BCEN means.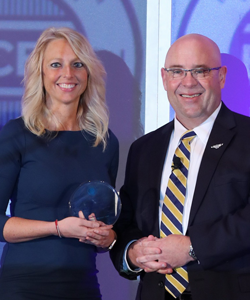 2019 Distinguished CEN Heather Linsalata, MSN, RN, CNL, CEN, TCRN, CPEN, of University Hospital, Newark, NJ
"I love the sense of pride and joy that comes from a nurse achieving certification. I have always been an advocate for professional certification, and when I became the ED educator at University Hospital, I saw what a valuable tool it could be. The department had a high vacancy rate, low morale and staff satisfaction and poor retention. Although I was new to the hospital and new to the role of an education specialist, the one thing I did know how to do was motivate nurses to sit for the CEN! It really bonded the staff together and over the last year and a half we have filled all our vacancies, morale has improved and we have a retention rate about the national average. The nurses walk around the ED wearing their Certified RN badges with pride."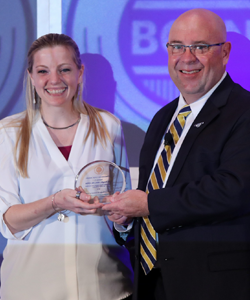 2019 Distinguished CPEN Cara "CJ" Szeglin, BSN, RN, CPEN, of New York-Presbyterian Morgan Stanley Children's Hospital in New York, NY
"When I first started nursing and people were talking about certification, I thought, 'Those are the elite people. I want to be them one day.' But I didn't do it until a colleague said, 'We need to be certified!' So we studied together and took the exam. As soon as I got it, I thought, 'Why did it take me so long?' Credentialing is a very individual decision, and I realized I needed that group motivation and support. Once I became a CPEN, I figured I'd just keep spreading the word and help other people so they can get it too. Certification gives you that confidence level that yes, you are good at assessing, you should assess your patients, anticipate what's going to happen and achieve the care plan and give. You know you are giving the best possible care because you are certified. If it's your patient population, own it!"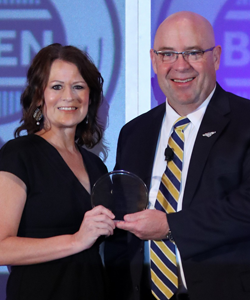 2019 National Certification Champion (small healthcare facility): Rush Foundation Hospital Emergency Department, Meridian, MS
 "Winning this award validates Rush's dedication to having a team of certified nurses. It's important, and it feels great to be recognized on the national level. I had no idea that we would get it, but we did! In addition to the organizational support, I want to emphasize that we know and our nurses know BCEN certification improves patient outcomes and ensures that ED nurses are current on evidence-driven practices so we can be top performers in our field.
Two of the biggest things we do to support our nurses is encouraging them — and they encourage each other as well — and recognizing them in personal ways and as an organization. And going forward, recognizing our certified nurses is going to be an organization-wide thing, not just for the ED. Nurses have to study hard, and we definitely see a boost of confidence. We won this award because of the emergency department team we have here at Rush. They took the time to prepare and take the exam."
– Melissa Newell, BSN, RN, CEN, manager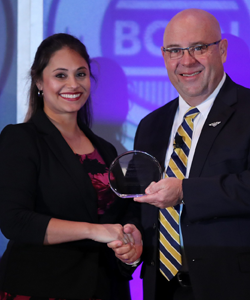 2019 National Certification Champion (large healthcare facility): Oak Hill Hospital Emergency Department, Brooksville, FL
 "Winning this BCEN award is a validation of the hard work Oak Hill Hospital has done over the past few years. Our journey started way back in about 2009 when our ER team at the time decided that they wanted to be 100% board certified. At the time, all but two of the nurses passed. That  started its own internal competition among team members. From there, in 2015 we set a goal to obtain 100 board certified nurses — newly board certified nurses — and then we just continued from there.
 Our current goal is to maintain our percentages, and we currently lead our division of 17 hospitals with certification. Our leadership took the initiative and our nursing administration department is 100% board certified along with all our directors and managers. In nursing, we're only going to get out of it what we put into it. As professionals, we need to develop ourselves, and board certification is a way to validate our knowledge, our skills and our experiences."
– Bethany Beard, MSN, RN CEN, CPEN, TCRN, Sepsis Coordinator and Professional Development Council Chair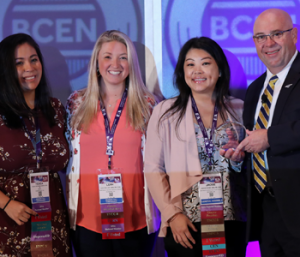 2019 National Certification Champion (health system): Northeast Georgia Health System Emergency Departments, Gainesville, GA
 "Northeast Georgia Health System emergency departments promote BCEN certification overall and dependent on a nurse's area or areas of specialization. Professional certification is important not only for the certification but also for the emergency department because certification validates our nurses' knowledge, skills and practice, and it speaks to improved patient outcomes. Certified nurses provide a higher standard of patient care.
When I got the email, I read it a couple times, and I thought 'Did we really win?' I forwarded the email to my nurse manager and executive director, and we were all still speechless. This has been a journey for our organization and winning this BCEN award signifies that we are headed in the right direction. We know that it's crucial for our nurses to be lifelong learners in order to meet the challenges of today's healthcare environment. Healthcare is changing every single day, and to be certified is impactful to the care that we provide. That's why we help our nurses attain and maintain their certification."
– Jackie Payne, BSN, RN, CEN, TCRN, charge nurse, Gainesville Emergency Department
Earlier this year, BCEN honored 2019 Distinguished TCRN Travis Beebe-Woodard, BSN, RN, CEN, CPEN, TCRN of University of Vermont Medical Center and 2019 Distinguished CFRN Carlos Tavarez, RN, CEN, CFRN, CTRN, TCRN, NREMT-P, FP-C, CCEMT-P, EMT-T, WEMT, of Orlando Health Orlando Regional Medical Center.
Congratulations to all our 2019 honorees! BCEN salutes your pursuit of excellence, innovation and heartfelt dedication to providing the best possible care for your patients.   
Read about the award-winning accomplishments of all our honorees at bcen.org/awards.