With my first year as chair of BCEN's board of directors well underway, I want to again take the time to acknowledge the dedication to excellent care that you and every one of our emergency care certificants continue to demonstrate. 
The current landscape of unpredictable and unprecedented patient volumes, staffing shortages, workplace violence and safety issues, and back orders of needed medications and supplies contribute to these being the most professionally challenging times I've experienced in my 40+-year nursing career.  
Your professionalism and expertise are beacons of hope and anchors of expertise in stormy times. Thank you for all you do for your patients and colleagues! 
With challenges come opportunities, and BCEN has important and exciting things happening in each of our specialty areas and our continuing education offerings: 
The second BCEN Learn Live conference is happening November 14-16 in Las Vegas, Nevada.
The BCEN Learn continuing education platform – designed especially for BCEN-certified nurses to ensure that you have high-quality advanced CE opportunities relevant for your specialty – has more CE offerings than ever. Please be sure to let us know which topics spark your interest the most.  

 

The 2022 CPEN Role Delineation Study (RDS) is currently underway. This ensures that the CPEN exam remains current, accurate and relevant. Thank you in advance to every CPEN who completes the RDS survey. Your participation is a vital part of BCEN's ongoing work to maintain this high quality, sough

t

-after certification.  

 

The CFRN, BCEN's second oldest credential, held by nurses around the world who demonstrate nursing excellence in the air, will be celebrating its 30

th

year next year. Stay tuned for the celebrations!

 

Our critical care ground transport certification, the CTRN, is currently our fastest growing program, having experienced back-to-back years of near 20% growth.

 

There are now over 7,000 TCRNs. Such spectacular growth for a certification introduced less than 7 years ago is a powerful testament to nurses' commitment to trauma expertise.

 

Progress on the creation of our CBRN (Certified Burn Registered Nurse) certification program continues thanks to the diligent work of BCEN staff and some of the world's leading burn nurses. The blueprint for the exam has been developed and item writers are starting to draft exam questions this very week. This will be BCEN's 6

th

certification, and we can't wait for burn nurses to have the opportunity and privilege to be able to say, "I am board certified in my specialty." 

 
This week, I'm bursting with pride and so glad to honor my fellow nursing professional development colleagues for all the expertise, heart and passion they put into helping nurses reach their fullest potential.  
And next month, I and everyone at BCEN look forward to celebrating CPENs (and all my fellow peds people) during Pediatric Nurses Week … and each of you during Emergency Nurses Week!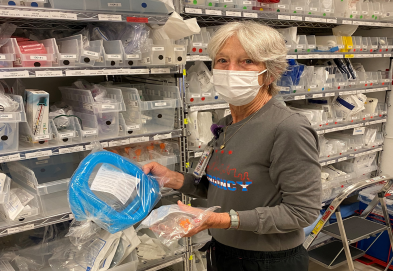 BCEN's 2022-2023 Board Chairperson Rebecca Steinmann, MS, APRN, NPD-BC, CPEN, CEN, TCRN, CCRN, CCNS, is a full-time nursing professional development practitioner in the emergency department at the Ann & Robert H. Lurie Children's Hospital of Chicago. She also chairs BCEN's CPEN Exam Construction & Review Committee.