Lindsay's story is the first to be featured as part of BCEN's new "Certified Spark" nurse success story series. These stories will be featured on bcen.org, in the BCEN InformED newsletter, and BCEN's social media channels.  Tell us your Certified Spark story!
---
She's Got That Certified Spark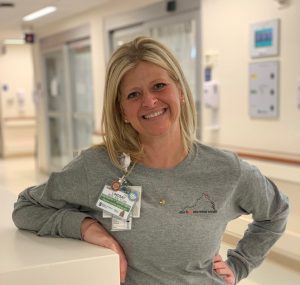 You only have to be in Lindsay Schoem's presence for a few minutes to experience her passion for being the best trauma nurse she can be and for helping others do the same. In fact, you might even say it's electric.
For 2022, the Inova Loudoun Hospital ED's Professional Development Council that Lindsay chairs set a goal to get two or three nurses board certified. When that happened early in the year, something seemed to catch hold across the ED because soon there were five, and then 10. By year's end, a total of 13 nurses earned a specialty credential. 
Lindsay: I am so proud of our nurses and wanted to share our story. Nurses were seeing their peers get certified and the fulfillment they felt, and they wanted to get certified too. They saw the doors opening and how they could really excel, just like their peers. 
Being certified shows the dedication and that extra step you have taken to grow professionally. It means being equipped with knowledge and training that leads to better patient care and improved patient outcomes. And it gives patients and their families confidence too.
Opening Doors, Empowering Teams
At Inova Loudoun, the specialty certified nurse is often looked to for leadership roles. They can precept and mentor and are viewed as trusted resources.
Lindsay: Staff members look up to nurses that are certified, and having a specialty certification opens doors to shared governance and administrative roles. On every shift, every day, certified RNs inspire and empower their teams to achieve the impossible.
I'll Admit It: I Was Scared
Although Lindsay's first experience working trauma goes back to the end of her first year as an ED nurse, Lindsay became a Trauma Certified Registered Nurse (TCRN) in December 2019.
Lindsay: I'll admit it. I was scared to take the test. Then I decided to go for it. I took a review course. I had mentors and supporters. I worked the questions and took a practice exam. When I found out I passed, the first thing I wanted to do was go straight to the security office and say please change my badge and add those letters!
Now, patients see the letters T-C-R-N on my name badge, and they ask me what they stand for. When I tell them it means I got certified in trauma care because I wanted to provide the best care for them, you can instantly see the relief on their faces and comfort they feel knowing they're being cared for by someone who's an expert in the specialty. And that's welcome news on one of the worst days of their lives.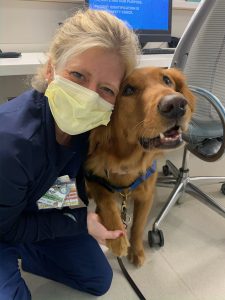 Passing It On
These days, Lindsay is a full-time supporter and cheerleader for other nurses to earn their credentials.
Lindsay: I just love seeing people excel in their careers. I tell them: 'You do this every day. You get put on the spot and you save lives. You took the NCLEX and passed. You can do this.' Then they say: 'What if I fail?' And I say: 'It's okay if you fail. We'll work on it together.' But they don't fail. They succeed. And it's just so happy!
After they pass, the nurses have such a strong sense of accomplishment. When I see them working on the floor, they're holding their head up higher and they're saying to themselves: 'I'm going to go into this room, and I know exactly what to do.' It's so amazing to see the self-assurance they feel.
A Long-Lasting Legacy of Success
In the Inova Loudoun ED, there are nurses who hold the Certified Emergency Nurse (CEN), the Certified Pediatric Emergency Nurse (CPEN), the TCRN, and the CCRN.
Lindsay: Nurses definitely have a spark after they become specialty certified. It keeps them going and provides incentive to keep going above and beyond.
When one nurse achieves success, we all share in their success. And ultimately the community is always better served because of that success. Certification demonstrates that nurses have 100%  proven their competencies. It establishes them in their specialty—and certified nurses are staying in their specialty.
The ER is known for being a revolving door. Yet the certified nurses aren't leaving. They are more confident. They are better equipped to remain calm amidst the chaos. They are motivated to help our patients on a deeper level.
And every time they walk through that door, you can just see that spark and that smile in their eyes.