Monday morning 10:00 AM, the hospital is bustling with activity and there appears to be no shortage of work to be accomplished! After a warm welcome, we walk through the emergency department and notice the rooms are full, ambulances are rolling in with new patients, and staff are moving at a fast pace. One thing about this environment is clear; it may be busy but the people who work here genuinely appear to enjoy their work. Doctors, nurses, techs and other staff are communicating with each other, smiling and moving with purpose.
The BCEN team visited Edward Hospital on this Monday to learn how they support their nurses and specialty certification. There is quite a story to tell here and it begins at the top with strong, consistent leadership. Edward has been supporting their nurses and encouraging certification for many years. As we tour the ED, we see several awards and team pictures hanging on the wall. Cindy Rentsch, MSN, RN, CEN, CCRN, TNS System Director, Emergency Services, proudly talks about each award and picture. The resounding commitment to excellence this group has, is palpable and rightfully so. Edward is Magnet recognized, a three-time Lantern Award winner and a past BCEN Honorary Organization award winner, to name a few.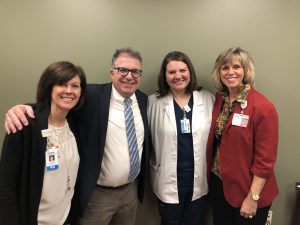 Edward Hospital has become a high achieving facility, in part, by valuing and supporting their nursing workforce. They are big believers in specialty certification and boast a 49% certification rate at Edward and a 69% certification rate at their sister Plainfield facility.
Of course, we wanted to know the secret to their certification success. Stephanie Klavohn, BSN, RN, CEN, TCRN, TNS Clinical Educator, Emergency Services, explained that education is key and the team works very hard to make sure the nurses have the knowledge and skills required to handle what comes through the doors on a given day. They accomplish this through their professional development council that offers certification review courses twice yearly. Edward uses their own certified nurses to teach non-certified nurses assuring that the learning is reinforced for everyone involved. Edward leadership also provides continuing education at monthly staff meetings, offers robust and fun skills sessions themed as the "ED Olympics" and initiates numerous other opportunities for learning.
The heightened learning leads to nurses obtaining and maintaining their specialty certification. Ellen Turnbull, BSN, RN, CEN, TNS Director, Emergency Services explained that there is a lot of promotion and recognition that occurs when a nurse achieves their certification. A celebratory breakfast is hosted for Certified Nurses Day™ that all certified nurses are invited to attend. Ellen also describes "exclusive" events for certified nurses. These activities are meant to promote the accomplishment of being certified and encourage others to become part of this elite group.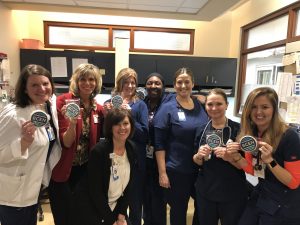 But that's not nearly all. Remember the strong leadership mentioned before? While we visited Edward, we had the pleasure of meeting Tom Scaletta, M.D., MAAEM, FACEP. Dr. Scaletta has been the Emergency Services Medical Director for the past 14 years. We learned that he is married to an emergency nurse and as he talks, it is clear he too believes in the value certified nurses bring to the table. In fact, Dr. Scaletta and his physician group have supported specialty certification throughout his tenure. Dr. Scaletta proudly declares "Certified nurses have a better sense of when a patient is sick and when they need to be seen right away."
Edward emergency services physicians believe in board certification so strongly that they provide a financial award to newly certified nurses in the amount of $1000. Nurses who successfully recertify receive $500. The physicians have spent close to $100,000 in the past 14 years supporting the value of nursing certification. Dr. Scaletta says it is worth every penny when it comes to ensuring the nurses have the knowledge to care for the patients. The Edward physicians are board certified and believe that nurses should be too.
When you consider all of this, it is not surprising to see a team of doctors, nurses, techs and other staff working so well together. Therefore, it is not a surprise to see a Magnet recognized, three-time lantern award winning facility boasting patient satisfaction scores at or above the 95th percentile every quarter for the past 14 years! With a combined 54% and growing specialty certification rate among the nursing staff, Edward Hospital is a true example of a certification champion.