On May 14, BCEN was pleased to announce our 2021 Distinguished CFRN Award winner: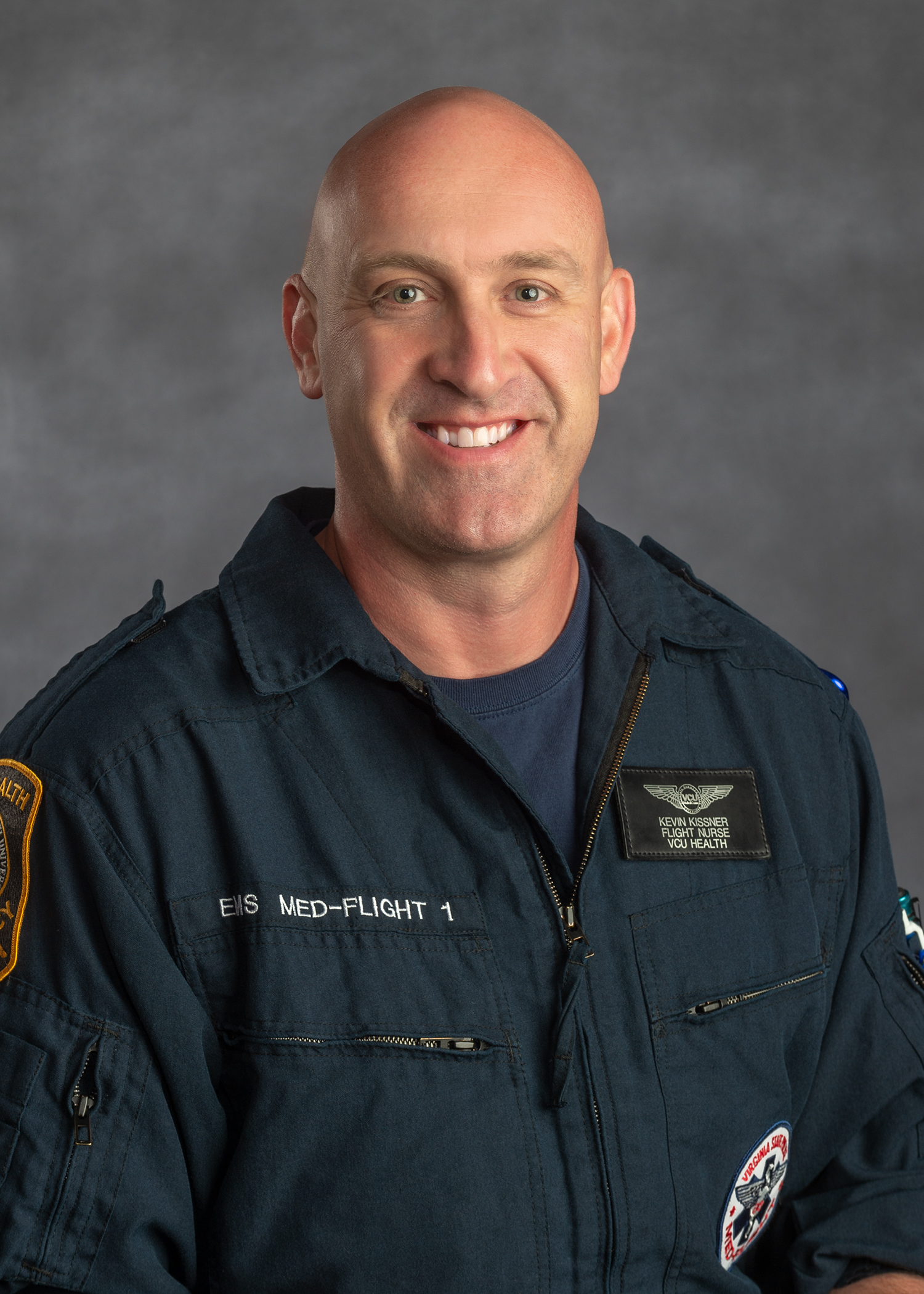 Kevin A. Kissner, BSN, RN, CEN, CFRN, NRP, Flight Nurse and Paramedic
VCU Health & Virginia State Police Med-Flight I
Richmond, VA
How did you become interested in flight nursing and what position do you currently hold?   
My path in emergency medicine began as a teenager. My father, who is a retired police officer, introduced me to fire/EMS when I was in high school. During my senior year of college to become a paramedic, I received an internship with the Carilion Clinic Life-Guard flight program and fell in love with it. It was one of those "Aha!" moments where I realized my passion was right in front of me. After a few years working as a firefighter/paramedic, I decided to pursue nursing and a career in flight medicine. Several years after working with the Level I trauma center in Roanoke, I was hired as a flight nurse with the same program where I did my internship.
Ten years later, in 2015, I learned VCU Health was partnering with the Virginia State Police to staff nurses on Med-Flight I.  Being near my hometown and having always looked up to the Med-Flight program, I seized this opportunity and was the first nurse hired for this new collaboration. I am not sure there is another program quite like it. The Virginia State Police own and operate the aircraft (Bell 407s, H145s and a Bell 412), the paramedics are from Chesterfield County Fire and EMS, and the nurses are from VCU Health.
We primarily do scene work with some interfacility transports, but we also support state and local police departments with searches and hoist rescue operations.  One of the unique aspects of the program is how it integrates nurses, who typically have limited exposure to police work, pursuits, and hoist work. It has been very rewarding to see the role of the nurse at Med-Flight expand to incorporate air medical transport with search and rescue.
What does the BCEN Distinguished CFRN Award mean to you?
It is an honor to be selected from such a diverse and strong community of professionals. Receiving this award, honestly, is the pinnacle of my career to this point. I have been dedicated to my career in emergency medicine for the past 20+ years and I am extremely proud of this award.
We do not do this job for recognition or accolades, though. When you become a CFRN, there is a drive to make things better, not only for you, but for your patients and your crew members. I try to live my life and career using the Ripple Effect theory. We see people and treat patients at potentially one of the most difficult times in their lives. And if I can make an impact on somebody, a patient, student, family member, or coworker—whether they realize that impact today or whether it is realized 10 years from now—that is why I do it.
What inspired you to earn the CFRN?
I have been a flight nurse for 16 years and sat for the CFRN five years into my career. I had always regarded nurses who held a specialty certification as being top-notch in their field. I think it is really more about what you do with that knowledge after you become certified and how you continue to grow. It is a major accomplishment to demonstrate your proficiency in the specialty, but there is so much more to being a CFRN beyond the privilege of displaying these four letters after your name.
Flight nurses work in an industry that is demanding on many levels. It requires you to always be on your game. In other words, you are only as good as your last flight. You have to remain humble and keep learning. You have to be flexible and willing to understand that things are constantly going to change, and you have to be able to adapt and overcome—sometimes in a split second. Obtaining the CFRN represents continued dedication to your practice, thus, your patients. I think the defining thing about the CFRN is that it is not only a certification, but a mindset.
Has having the CFRN made a difference during the COVID pandemic? 
It has been interesting to be on the cutting edge of change. We have a pandemic that we have never experienced before. I try to utilize my knowledge as a CFRN by employing evidence-based research to determine how to adjust. Even in uncertain times, it is important to rely on your training to help guide you.
What do you enjoy most about helping other nurses earn the CFRN? What is their biggest hurdle?
Everyone I have ever met who serves on a flight crew or is part of the air medical industry is passionate about what they do. Being a flight nurse is the best job I have ever had, and I love to see others feel the same. I enjoy helping people grow and expand their knowledge. I love motivating and inspiring people:  it is one of the things I appreciate most about education and teaching.
I think there are a lot of people who could take certification exams but are hesitant. The biggest hurdle is simply committing to taking the test. The CFRN is the hardest test I have ever taken, and it does seem like a daunting task at the outset. Encouragement and guidance by relating theories to practical application—through patient care, debriefing an incident, or working through a communication or safety issue—is how I have helped others attain the CFRN.
One of your nominators described how it is not only the clinical expertise that sets CFRNs apart from non-CFRNs, but also the multilayer knowledge base, which includes safety and communications. 
I have talked with new nurses in the past who wanted to take their CFRN soon after graduation from nursing school, and while I love their passion for excellence, I always encourage them to focus first on the fundamentals as they begin their practice. I see the CFRN as somebody who is well-versed and can effectively apply nursing principles to the intricacies and demands of flight medicine.
Safety is the highest priority in the transport and air medical industry. I really did not appreciate the vastness of that statement until I became a flight nurse. Communication is crucial as well, and it is one of the hardest skills to teach. I think the Just Culture philosophy and crew resource management are among the best tools to help people communicate better.
Whether conflict, concern, or question, you must be able to calmly, quickly and effectively communicate your thoughts and intentions. In turn, you also must be able to hear what other people are saying. Whether using loop-closure or readback confirmation, everyone must be on the same page. The ultimate goal of every single shift is for all of us to go home. It is not me, or you, but us.