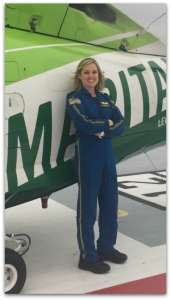 Mobile ICU/Flight nurse
Parkview Regional Medical Center Health
Fort Wayne, Indiana
Mobile ICU/Flight Nurse Aimie Greulach (left) recently made a choice that many experienced nurses who have Associates Degrees in Nursing are also facing: the decision to go back to school to earn a Bachelor of Science in Nursing.
Greulach has been a nurse for 21 years, spending the first fifteen working in the emergency department at Parkview Regional Medical Health Center and the past six in its Parkview Samaritan flight and ground transport department of the hospital.
She had always intended to go back to school to earn her bachelor's degree, but found that her busy schedule working in the emergency department and raising a family made it difficult for her to attend more than a few classes per year.
Yet even with her busy schedule, Greulach's dedication to furthering her learning and education has always been steadfast. Upon graduating from the nursing program, she worked at one hospital throughout the week and used her weekends off at another nearby hospital to gain experience working in the emergency department.
The wheels of her brain were turning even during downtime. When watching the popular television show "ER" in the early '90s, she would often jot down the medical terminology used and look up the definitions later to stay sharp.
She continued to grow professionally by achieving her long-time goal to become a Certified Emergency Nurse (CEN®) in 2013 and by earning her Certified Flight Registered Nurse (CFRN®) certification in 2015.
"What I always tell anyone who is interested in becoming certified is to just schedule the test and put it on the calendar. Once that scary part is over, the best thing to do is to study, study, study. And once you pass the exam, always encourage and uplift anyone else next in line," she said.
Greulach's desire to continue her education was renewed after speaking with her department director/mentor, who challenged her to finish her degree. According to Greulach, the timing was perfect because Parkview Hospital is currently in the process of achieving Magnet status, which means the administration is also encouraging nurses who hold an ADN to go back to school to achieve their BSN. The hospital also hopes to have all of its nurses 100 percent certified by 2018 – a direction Greulach said is just simply the direction healthcare is moving towards.
While Greulach admits this task is an immense undertaking, she is thankful Parkview is so helpful to its nurses who plan to achieve certification. In addition to providing some monetary reimbursement to the nurses for schooling and certification, the hospital takes the time to recognize certified nurses at a special dinner every March for Certified Nurses Day.
"The environment is very encouraging, which has helped me to feel very supported in achieving my goals," she said.
In 2016, she enrolled in the online degree program at Western Governors University to finish her BSN. In order to help with the costs associated with schooling, she applied for the Board of Certification for Emergency Nursing (BCEN®) scholarship offered to nurses who hold their Certified Flight Registered Nurse (CFRN®) or Certified Trauma Registered Nurse (CTRN®) certification, are Air & Surface Transport Nurses Association (ASTNA) members and plan to further their studies in nursing by obtaining either a Bachelor's degree, Master's degree or Doctoral degree.
In January 2017, she was notified that she would be a recipient of the scholarship. According to Greulach, she recognized the value the CFRN credential brought to her by affording eligibility to apply for the scholarship and was "immensely honored and extremely grateful" to receive it.
Greulach plans to graduate from WGU by the end of summer.
When looking back on the journey she has taken to achieve her education goals as an emergency nurse, she recalls a quote she once saw on a billboard that has always stuck with her: A smooth sea never made a skilled sailor.
"To me, that quote embodies emergency nursing. There are days when the sea is bumpy, but when you have that certification or degree, you know that you have the knowledge, grit and stamina to get through the storm. It helps you to steer that ship a little better."