Value of Flight Nursing Certification Research: The 2022 CFRN Pulse Survey
Nearly 1,000 CFRN-certified nurses caring for patients of all ages responded to the first value of certification research focused exclusively on flight nursing.
In this BCEN Inside News article, read highlights of this important study which published as an original research article in the July/August 2023 Air Medical Journal.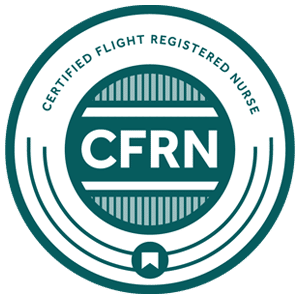 As described in BCEN's May 4 announcement announcing the 2022 CFRN Pulse Survey findings, RNs caring for critically ill or injured patients in the uniquely demanding, complex and high-stakes flight environment earn the Certified Flight Registered Nurse (CFRN) nursing specialty certification "to validate their clinical and patient care excellence, prepare themselves for the flight transport environment, for a competitive hiring advantage, and to lead by example."
Conducted in fall 2022, The 2022 CFRN Pulse Survey is the first value of certification research focused solely on the CFRN flight nursing certification. The CFRN survey followed a companion survey of critical care ground transport nurses holding the CTRN credential, which was also conducted in 2022.
"This CFRN certification study, in combination with the recent critical care ground transport companion study, provides important insight into what flight and critical care transport nurses perceive as benefits of advanced certification, and how holding a mode-specific transport credential validates their dedication to safety, professionalism, and patient care excellence in the out-of-hospital environment," said article co-author Jacqueline C. Stocking, PhD, MBA, MSN, NEA-BC, CMTE, CEN, CFRN, FP-C, CCP-C, RN, NREMT-P, University of California Davis Medical Center, Sacramento, California.
Stocking is the longtime editor of Air Medical Journal (her co-editor conducted the editorial process for the CFRN research article).
BCEN CEO Janie Schumaker is a co-author of The 2022 CFRN Pulse Survey article, which published online in April and appears in the July/August 2023 print issue of Air Medical Journal.
CFRN Pulse Survey Highlights
Highlights of the value of flight nursing certification survey include:
Benefits of CFRN Certification
The top perceived benefits of being a CFRN are a sense of accomplishment and pride (91%), flight physiology knowledge (85%), flight nursing clinical knowledge (83%), and confidence as a flight nurse (81%).
Over 75% of respondents indicated that being CFRN-certified has positively contributed to their critical thinking and ability to provide expert care.
CFRN Certification Program Growth
Since 2012, the annual number of initial CFRN certifications has increased an average of 22%, contributing to a fourfold increase in annual initial CFRN certifications from 2012-2022.
CFRN Nurse Demographics
35% have over 10 years of flight nursing experience.
43% are employed by a stand-alone transport program, and another 25% work for a university/academic hospital or university/academic trauma program.
70% of their time is spent in rotor-wing aircraft and 21% in fixed-wing aircraft.
The majority of their patients (49%) are adults aged 18-65, followed by adults over 65 years old (35%), with smaller percentages of pediatric and neonatal patients.
Qualitative Responses
93% of respondents provided direct comments on why they value CFRN certification
91% described how being CFRN certified benefitted them, their team or their patients
93% described their reasons for being CFRN certified
The major themes of nurses' open-ended comments to the above prompts are described in the Air Medical Journal article.
The Bottom Line:
"The findings suggest CFRNs are very experienced, provide care for patients across the age continuum, and perceive multiple intrinsic and extrinsic benefits of CFRN certification, all of which are essential to safe, evidence-based advanced nursing practice in the unique, complex, autonomous, and dynamic flight environment."
Read or download the complete findings via free access through 2023 here.
---
Learn more about BCEN's research leadership and BCEN-authored journal articles.
View the new CFRN Exam Content Outline.