Expanded Offerings to Support Certified Emergency, Transport and Trauma RNs Featured in BCEN 2022 Annual Report
OAK BROOK, IL (January 26, 2023) – Expanded offerings to help board certified emergency, transport and trauma RNs earn and maintain their specialty credentials are featured in the 2022 annual report released today by the Board of Certification for Emergency Nursing (BCEN).
"In 2022, BCEN continued to offer support to nurses based on direct feedback from our certification holders," said BCEN CEO Janie Schumaker, MBA, BSN, RN, CEN, CENP, CPHQ, FABC. "We debuted BCEN Learn Live, our first self-hosted conference, and the offerings on our award-winning BCEN Learn professional development platform grew markedly, providing anywhere, anytime advanced education that can be used immediately in clinical practice, leadership and teamwork."
More specifically, the BCEN Learn platform, which launched in fall 2020, now offers more than 85 highly interactive, state-of-the-art continuing education (CE) courses designed specifically for RNs working across the emergency spectrum, as well as two dozen free CE webinars, 52 podcast episodes, a new unlimited player game for pediatric emergency nurses, and full length practice exams.
The first BCEN Learn Live Conferences—featuring live TED-style CE session designed specifically for board certified nurses—were held in coastal Alabama and Las Vegas, with 2023 conferences scheduled for Dallas (May) and Charlotte (November).
Highlights of 2022 include: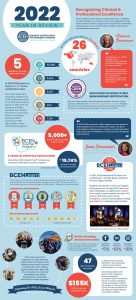 Nearly 50,000 RNs across 26 countries hold one or more BCEN credential
Number of Trauma Certified Registered Nurses (TCRNs) tops 7,000 for the first time
24% increase in RNs holding the CTRN critical care ground transport credential (for a third straight year of record growth, following 19% and 29% increases in 2020 and 2021, respectively)
Development of the world's first burn nursing credential, the Certified Burn Registered Nurse (CBRN), proceeds on schedule
BCEN debuts its first self-hosted conference, BCEN Learn Live
New BCEN Learn "Build Your Own Bundle" allows RNs to create custom CE course bundles and save
$155,000 in BCEN scholarships is awarded to 47 RNs, nursing students, and paramedics becoming RNs
16% increase in healthcare facilities using the BCEN Voucher Program, with over 5,000 RNs getting certified or recertified via voucher since vouchers were introduced in 2016
View BCEN's 2022 Annual Report infographic here.
About BCEN
Founded in 1980, the independent, not-for-profit Board of Certification for Emergency Nursing (BCEN®) offers robust certification programs fostering empowered nurses across the emergency spectrum who contribute noticeably to patient care, safety and outcomes. Nearly 59,000 BCEN board certifications are held by registered nurses (RNs) who specialize in emergency, flight, critical care ground transport, pediatric emergency and trauma nursing. BCEN offers the Certified Emergency Nurse (CEN®), Certified Flight Registered Nurse (CFRN®), Certified Pediatric Emergency Nurse (CPEN®), Certified Transport Registered Nurse (CTRN®) and Trauma Certified Registered Nurse (TCRN®) certifications. Through the award-winning BCEN Learn continuing education platform and the BCEN Learn Live conferences, BCEN supports advanced emergency nursing lifelong learning. Learn more at bcen.org. Follow BCEN on Facebook, LinkedIn and Instagram.
CONTACT: Hilde Marnul, Director of Marketing & Communications | hmarnul@bcen.org | 630-352-0811
#  #  #